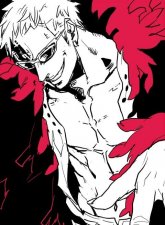 The Smiling Man
Staff member
Joined

Feb 14, 2006
Messages

5,652
Awards

12
Location
∞;4302350 said:

That means Yen Sid was around at the time of BBS
Of course he was. We saw him training Mickey in some of the trailers after all. =v
I find it strange he didn't mention former Keyblade Wielders
Maybe he didn't see it as a necessity at that point. With the looming threat of Organization XIII, I'm sure he would want Sora to be focused on the Org and not the events of the past.
well it's not like real future of kh discussion.
Forum description said:

Got a theory? Get your ducks in a row and discuss it and anything else relating to the future of the series here! This forum also serves as our general KH discussion area.
Well hell, would you look at that?
the discussion doesnt look very good...
Good, then leave and let the grown-ups talk.
Goku would own them all. And Naruto too.
What a great contribution to the thread. <_<
It's true, Goku will go Super Saiyan 3 and go BOOM KABOOM BABABOOM!!!!!
...
it's a bit of annoyance..
Then ignore the thread, genius.
All you have to do is not click on it. Not that difficult.
And I think that's proof enough that there is a God. =v
∞;4302678 said:

There's the possibility that Mickey trained Riku to some degree.
It's also possible that Mickey was "the voice" that also trained Sora somewhat.
we only saw a concept video and even then he did absdolutely nothing.
So, raising the ground with a wave of his hand, controlling a giant tornado, fending off Terra with one hand, grabbing Ven by the head with one hand, and completely freezing him is nothing? Yeah, I call Bullshit.
Who the hell do you think it was that was controlling the tornado of keyblades?
Just because MX wasn't running around and jumping, does not mean he did not fight.
Sora was able to use the keyblade much more efficient than TAV even without a master.
proof? no, no proof, just pure opinion.
look TAV we see moves that are unigue but at the same time look similar to Soras.
Yeah, the moves we have seen. What about the ones we haven't, hm?
ANd SOra mastered it better than TAV.
proof? no, no proof, just pure opinion.
Sora learned the true meaning of power and the keyblade had returned to hmi when Riku stole it.
The KK was rightfully Riku's, so he technically never stole it, he simply took back what belonged to him. When the KK returned to Sora at HB, it was because his heart was stronger and that the KK chose Sora to be its master.
it's pretty lame...this thread shouldnt last this long...
Why is it when ever people try to have a halfway desent discussion, some dumbass has to come along and try to ruin it? <_<
Cats.

are cool.

todeloo.

with my poo.


WHOEHOEHOEHOEHOEHOEHOEHOE88888888888888888888888881111111111
How mature for someone who's supposed to be 21...