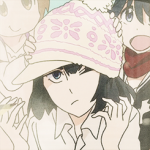 Hyped Ruler of Honnouji Academy
Joined

Jul 7, 2009
Messages

5,297
Awards

4
Age

30
Location
[video=youtube;W2YJ1jZbLLw]http://www.youtube.com/watch?v=W2YJ1jZbLLw[/video]
​
Official Synopsis said:

"Visionary filmmaker Ridley Scott returns to the genre he helped define, creating an original science fiction epic set in the most dangerous corners of the universe. The film takes a team of scientists and explorers on a thrilling journey that will test their physical and mental limits and strand them on a distant world, where they will discover the answers to our most profound questions and to life's ultimate mystery."
The movie stars Noomi Rapace as a Ripley-esque character named Elizabeth Shaw, Charlize Theron is 'Veckers', a strict and mysterious "suit" type of character and Michael Fassbender is an android named David.
So far, only one official image has been released aside from the logo, though there WAS footage shown at Comic Con.
Comic Con Footage Description said:

"And then the actual footage from the film starts, and its a huge flood of creeptastic imagery that recalls Alien but also a bit of 2001: A Space Odyssey. There are guys in pressure suits exploring an ancient chamber with weird hieroglyphs, and a guy in a spacesuit walking through a sliding door into a clean white chamber. And a guy (who might be Michael Fassbender) pulling a weird jelly-looking thing out of a canister. And as Ridley Scott's voiceover notes that things that may look small in the film will turn out to be important, there is a shot of a drop of blood on a finger. There is Charlize Theron on a table with bandages wrapped around her breasts, as though she's waking from hypersleep.

And then the footage gets faster and more furious, with a guy in a visor looking down at something, a woman in a suit walking into a red entryway, and a globe, and then Scott says, "The cast find an establishment which is not what they expected it to be, it's a civilization but what we find in it is very uncivilized behavior." And then there is insane carnage and people with goop inside their space helmets and someone shooting a flamethrower, and mayhem breaking loose in confined spaces. Meanwhile, Scott's voiceover is saying that there will be biomechanoids and the film will "break new ground." We see a giant pale planet with rings around it."
However, there's also been some spy photos of the set, my personal favorite being the one below~
This (along with The Hobbit Part 1, The Dark Knight Rises and The Amazing Spider-Man) is one of the many reasons I think 2012 will be an amazing year for movies.
Last edited by a moderator: