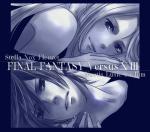 Joined

Oct 3, 2008
Messages

3,384
But that was before the Radiant Garden collapsed. Why would AX still want to dub himself as "Ansem" after he was done writing the reports where there was no use calling himself "Ansem" from there on?

Sorry if I'm not making sense. I pulled an all-nighter, and logging on to khinsider forums is my way of [ifthisgetsabusedagainisweartogod]procrastinating[/ifthisgetsabusedagainisweartogod] taking a break from studying, so my brain may not function as well as it should.
I maybe wrong, but wasn't that's a flashback for AX and his other apprentices before Radiant Garden being taken over by darkness?